Below we show how to add text watermark to PDF documents online, for free. Works on all desktop platforms including Mac.
Step 1: Select your PDF document
Unggah file-file Anda
File- file telah diunggah dengan aman melalui koneksi yang dienkripsi. File-file tetap aman. Setelah pemrosesan, file-file dihapus secara permanen.
Anda tidak mau mengunggah file dan lebih baik mengerjakannya secara offline?
Try Sejda Desktop. Fitur-fiturnya sama dengan layanan online, dan file-filenya sama sekali tidak keluar dari komputer Anda.
Klik 'Unggah' dan pilih file-file dari komputer lokal Anda.
Menyeret dan melepaskan file-file ke halaman yang dituju juga bisa dilakukan.
File-file Dropbox atau Google Drive
Anda juga bisa memilih file-file PDF dari Dropbox atau Google Drive.
Perluas dropdown 'Unggah' dan pilih file-file Anda.
Step 2: Add Text Watermark
Click the Add Text button at the top of the PDF page. You should see a text watermark being added.
Click on it to edit the text. Type 'Draft' or 'Classified' to try it out.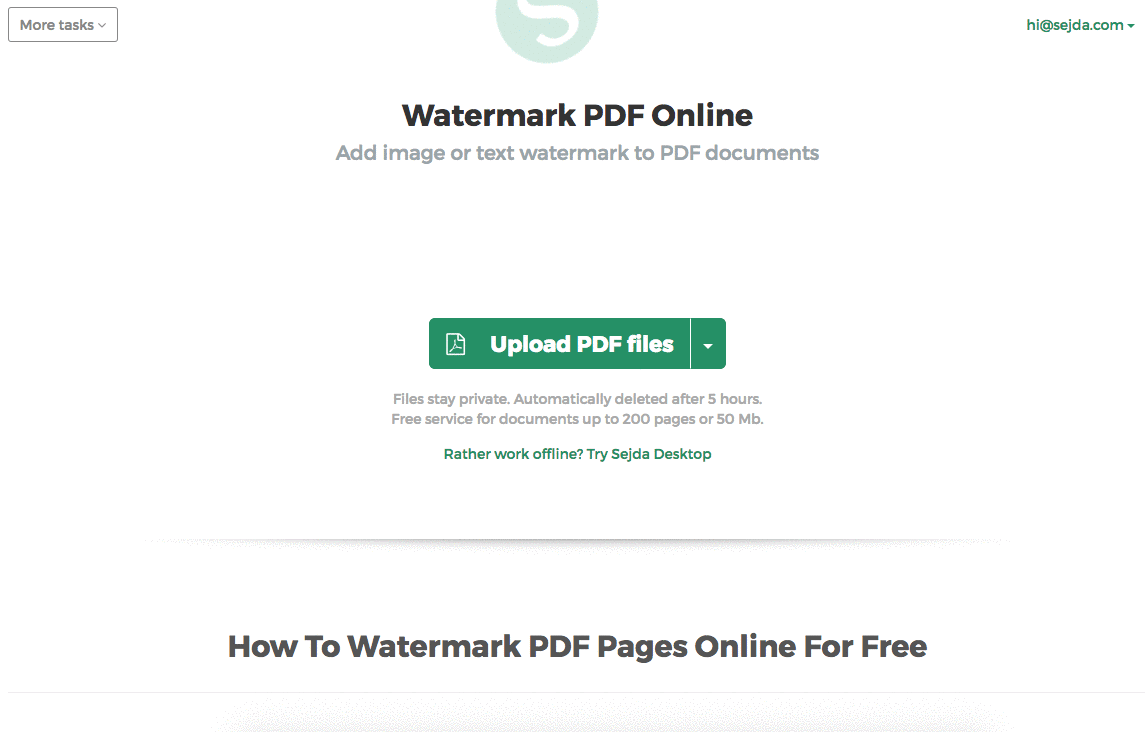 Step 3: Change text size, rotation and location on page
Click and drag the text watermark to change the location on the PDF page
Drag the rotation handle to rotate the text watermark.
Click and drag the resize handles found on the sides to change font size.
Step 4: Change text color, transparency and font family
Click on the text watermark to reveal its associated menu.
One can change the transparency of the watermark, making the text more or less opaque.
Watermark text color can also be configured, together with the font used for the text.