Below we show how to add text watermark to PDF documents online, for free. Works on all desktop platforms including Mac.
Step 1: Select your PDF document
Fájlok feltöltése
A fájlok biztonságosan, titkosítással kerülnek feltöltésre. A fájlok biztonságban maradnak. Feldolgozás után véglegesen törlésre kerülnek.
Inkább offline dolgozna a fájlok feltöltése helyett?
Try Sejda Desktop. Azonos az online szolgáltatással és a fájlok nem hagyják el a számítógépét.
Kattintson a "Feltöltés"-re és válassza ki a fájlokat számítógépéről.
A fájlok idehúzúsával is feltöltheti őket.
Dropbox or Google Drive files
Kiválaszthat PDF fájlokat a Dropbox-ról vagy a Google Drive-ról is.
A "Feltöltés" legördülő menüben kiválaszthatja a fájlokat.
Step 2: Add Text Watermark
Click the Add Text button at the top of the PDF page. You should see a text watermark being added.
Click on it to edit the text. Type 'Draft' or 'Classified' to try it out.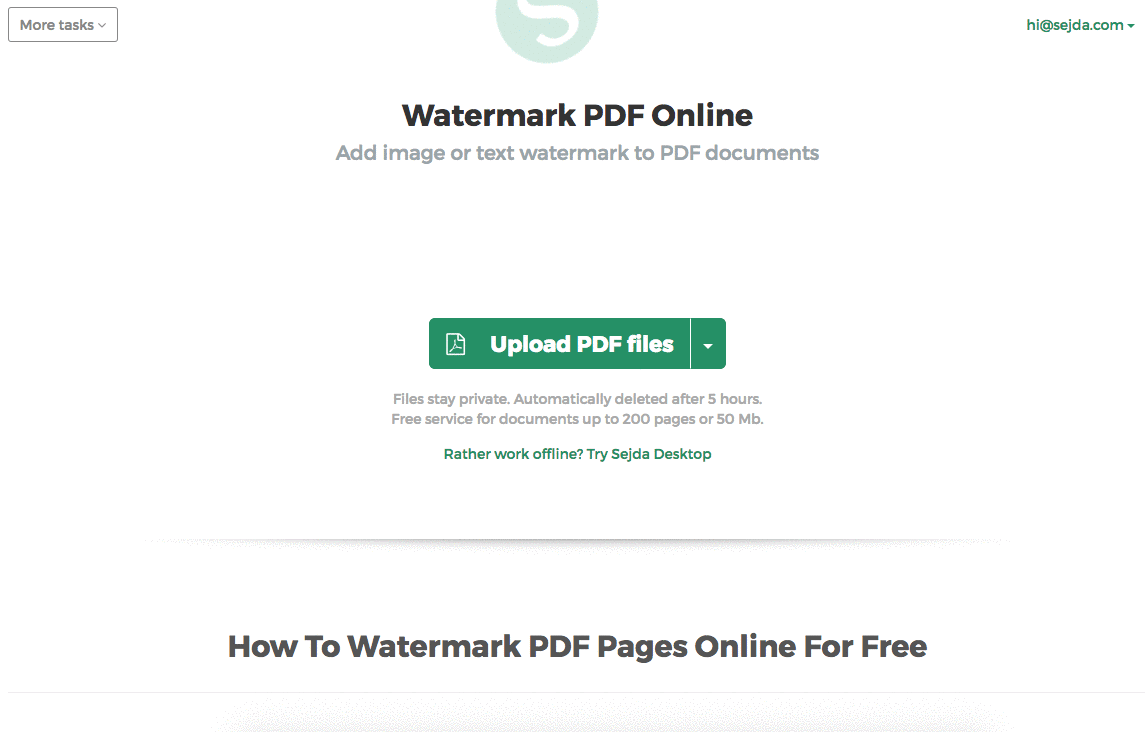 Step 3: Change text size, rotation and location on page
Click and drag the text watermark to change the location on the PDF page
Drag the rotation handle to rotate the text watermark.
Click and drag the resize handles found on the sides to change font size.
Step 4: Change text color, transparency and font family
Click on the text watermark to reveal its associated menu.
One can change the transparency of the watermark, making the text more or less opaque.
Watermark text color can also be configured, together with the font used for the text.