Below we show how to trim PDF margins online, for free. Works on all desktop platforms including Mac.
Last opp dine filer
Filer blir trygt lastet opp over en kryptert kobling. Filer blir holdt sikkert. Etter bearbeiding, blir de permanent slettet.
Vil du ikke laste opp filer og heller jobbe med dem offline?
Try Sejda Desktop. Samme egenskaper som online tjenesten, og filene blir på din PC.
Klikk på 'Upload' og velg filer fra din lokale PC.
DRa og slipp filer på siden fungerer også.
Dropbox eller Google Drive filer
Du kan velge PDF filer fra Dropbox eller Google Drive også.
Utvid 'Upload' området og velg dine filer.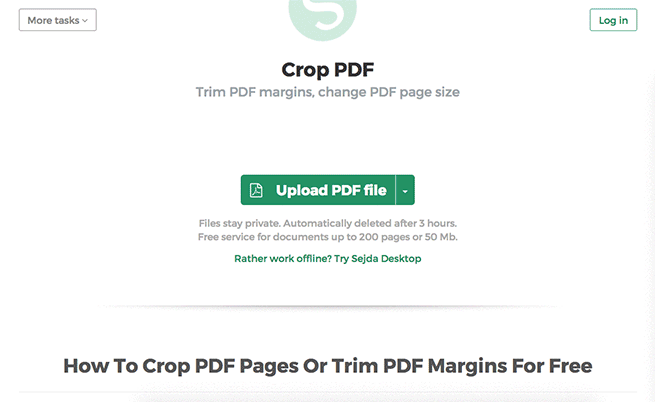 Step 2: Select the page area to crop
Once the file is selected, you'll see a preview of it's pages.
First 30 pages are rendered on top of each other with transparency. This is done so you can determine easily which crop area would work best for all pages in the document.
To select the crop area, click and drag across the PDF page preview.
Tip: Trim PDF page margins
How to trim the PDF page margins: simply make a crop selection that minimizes the whitespace left near the text on the page.
You can also specify the margin values in inches, if you prefer. Click More options, then fill the desired top,right bottom and left margins in inches.