Below we show how to trim PDF margins online, for free. Works on all desktop platforms including Mac.
Step 1: Upload your PDF file
Files are uploaded safely over an encrypted https connection. Files stay private and are deleted after processing.
Rather not upload your files and work with them locally?
Use Sejda Desktop. Offers same features as the online service, and the files are processed locally.
Click Upload PDF files and select files from your local computer. Can also drag and drop files anywhere on the page.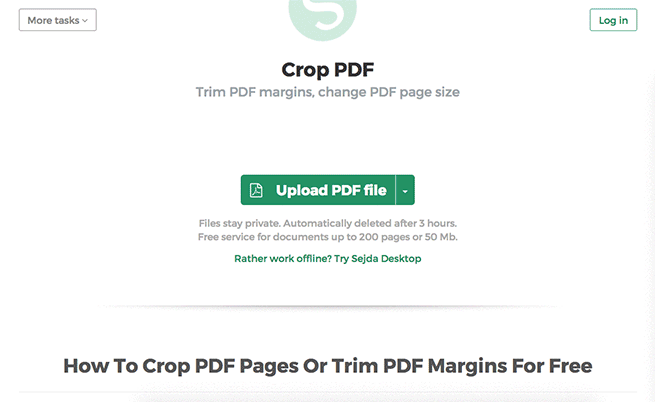 Step 2: Select the page area to crop
Once the file is selected, you'll see a preview of it's pages.
First 30 pages are rendered on top of each other with transparency. This is done so you can determine easily which crop area would work best for all pages in the document.
To select the crop area, click and drag across the PDF page preview.
Tip: Trim PDF page margins
How to trim the PDF page margins: simply make a crop selection that minimizes the whitespace left near the text on the page.
You can also specify the margin values in inches, if you prefer. Click More options, then fill the desired top,right bottom and left margins in inches.