Below we show how to combine an even pages file and an odd pages file into one PDF, achieving proper order.
Laden Sie Ihre Dateien hoch
Dateien werden sicher über eine verschlüsselte Verbindung hochgeladen. Dateien bleiben sicher. Nach der Bearbeitung werden sie endgültig gelöscht.
Würden Sie lieber darauf verzichten Ihre Dateien hochzuladen und damit online zu arbeiten?
Try Sejda Desktop. Gleiche Funktionen wie der Onlinedienst, und die Dateien verlassen niemals Ihren Computer.
Klicken Sie auf "Hochladen" und wählen Sie Dateien von Ihrem lokalen Computer aus.
Das Ziehen und Ablegen von Dateien auf die Seite funktioniert ebenfalls.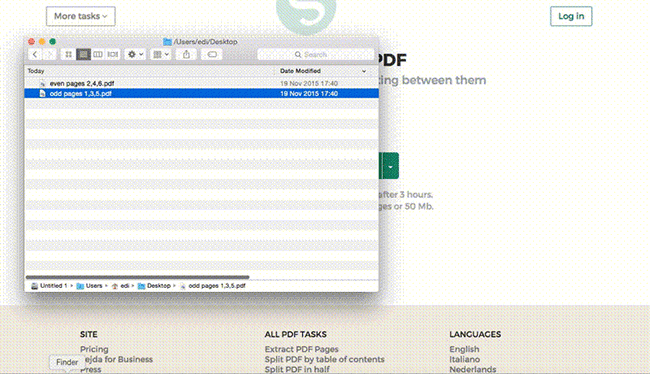 Dropbox- oder Google Drive-Dateien
Sie können auch PDF-Dateien von Dropbox oder Google Drive auswählen.
Erweitern Sie die "Upload" Dropdown-Liste und wählen Sie Ihre Dateien aus.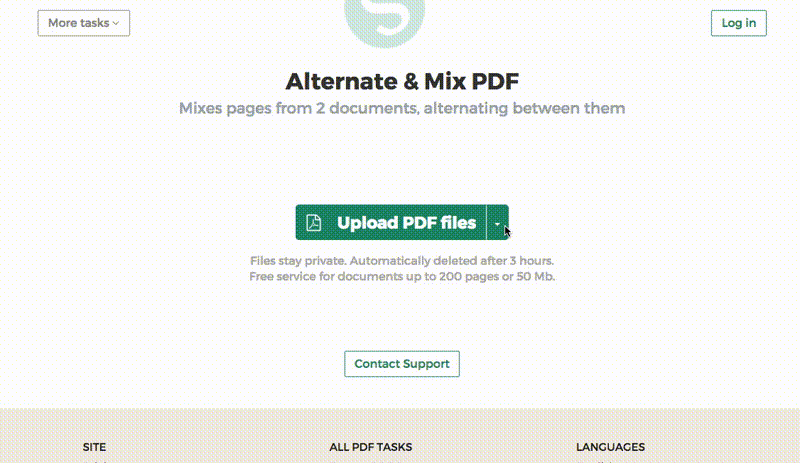 Step 2: Ordering pages
Most common scenario is having two sets of files, even pages PDF and odd pages PDF, from an auto feed scanner. To combine them, just click the Alternate & Mix button.
In case the files were not uploaded in the right order, drag and drop to switch them. The odd pages PDF file is should be on the left and even pages PDF file on the right.
Tip: Collate reversed even pages
If the even pages were scanned in reversed order (10, 8, 6, 4, 2, etc) you should select the "Pick pages in: Reverse Order" option. The result will have the pages in proper order: 1, 2, 3, 4, etc.
Tip: Alternating using different step
By default 1 page is picked from each document, when alternating. Need to alternate using a different step?
For example: pages from left.pdf should be inserted between every 3 pages from right.pdf. In this case, change the "Switch document after reading" value to 3 for the right file.